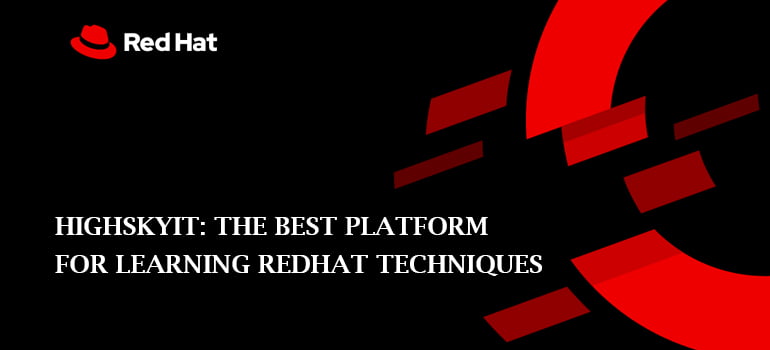 18 May 2021
Red Hat is no doubt one of the most extensively used platforms. The Red Hat, in fact, is the leading provider of open-source or free software solutions. Further, the platform employs a community-based approach to deliver reliable and efficiently performing cloud. That's not the end yet! Red Hat is a well-known name when it comes to Linux, middleware, storage, and visualization advancements. In such cases, if you want to grow your career in Redhat, you need to obtain Red Hat Training Course & Certification Ahmedabad.
When it comes to Red Hat training courses or any other DevOps Online Training Ahmedabad, you need to research before enrolling in any institute. This platform offers you all types of IT training and courses at the best price. Thus, if you are watching to learn the Red Hat techniques, HighSky IT Solutions is the best solution for you. Here are some reasons that mark Highsky IT as a leading platform for learning Red Hat techniques.
Early access to the training programs and techniques
One of the best things about the Highsky IT solution is it offers you access to knowledge in advance. Even before it gets released in the mainstream market, you can access the tricks and techniques of Red Hat. This helps you learn the techniques in advance and become a pro at it. Further, early access also offers you the chance to become an expert in understanding the Red Hat techniques and applying them in real life projects.
Extensive programs 
If you are enthusiastic about learning Red Hat, you are at the best place. This platform offers you all the courses and training programs necessary to understand the Red Hat techniques. Further, you will learn them from professionals who are experts in Red Hat. The extensive curriculum of the Highsky IT offers you in-depth knowledge about all the Red Hat techniques.
That's not all yet; you can read at your own pace. Highsky IT understands that every individual has different learning capabilities. Thus, it offers you the chance to learn at your own pace.
Cloud-based labs
Further, Highsky IT is one of the best Red Hat technique training platforms that offer you cloud-based labs. You can access the same lab as if you are learning in a traditional classroom. With the help of cloud-based labs, you can get a classroom-like atmosphere without any hassle.
Certification after the program
The firm offers you certification for all the IT training programs that you obtain. Whether it is your Python Training Classes in Ahmedabad or Red Hat training, you can achieve certification instantly after course completion. The certificate offers you recognition in several IT fields and professional life. You can easily find positions in reputed firms as well. Thus, if you want to learn Red Hat, you will need a reputed platform that can offer you the facility.
Conclusion
Highsky IT is a reputed institution in Ahmedabad which offers various IT training programs. It aims to deliver the best training programs that will help developers to find the desired positions in their careers. Call them today for more information!