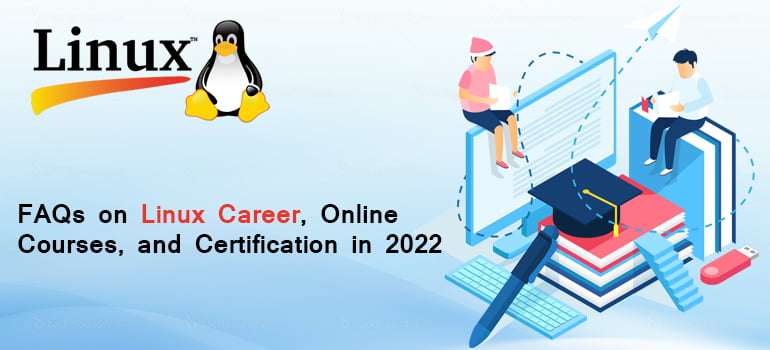 26 January 2022
In the present scenario, Linux has a bright future and career for those who want to show their potential in the corporate world. This post has combined some of the frequently asked questions related to Linux career, its online courses, and the certification. So, let's get answers to the questions in a simpler manner.
What are your ultimate goals with the completion of the Linux online course in Ahmedabad?
The Linux Online Courses in Ahmedabad have the mission to provide better knowledge regarding Linux that can enhance your goal to achieve it. So, you can take the applied and theoretical instructions and Linux resources to apply in the workplace or the classroom. This online course can teach you the right techniques and methods that you have to implement in the right way in your job place. This is where many aspiring IT professionals come every year for practical Linux training and to have real-world experience.
Have you planned to grow your Linux training classes to real-life classrooms?
Basically, the in-person and teaching online Linux Administration course in Ahmedabad are two different skills to handle. Currently, we are only giving preferences to the online education system where we can connect with many people across different parts of the region. But, in the future, we may come to real-life classrooms. However, looking into the present pandemic conditions, we are not having any such plans and are committed to providing online education.
Do you think Linux certifications courses are worth it?
Yes, Linux Training and Certification in Ahmedabad believe that the certification programs are beneficial for the people who are beginners in this field. This certification is important because it shows your commitment to the Linux Certification Ahmedabad, and your willingness to complete the course and obtain the certificate on time.
However, it has been seen that certificates become less important for the persons when they acquire the job experiences. They start thinking it's unnecessary, but when applying for an advanced job position, it is the one way to secure the job by eliminating all the unqualified people.
How to enroll in the Linux Administration Training classes?
If you are interested in joining our Linux Administration Training in Ahmedabad, then you need to understand the list of courses first that it provides us. For this, you can visit our website, Highsky IT Solutions, where you will get the lists of classes and courses. We would love to help you to find the right course for you.