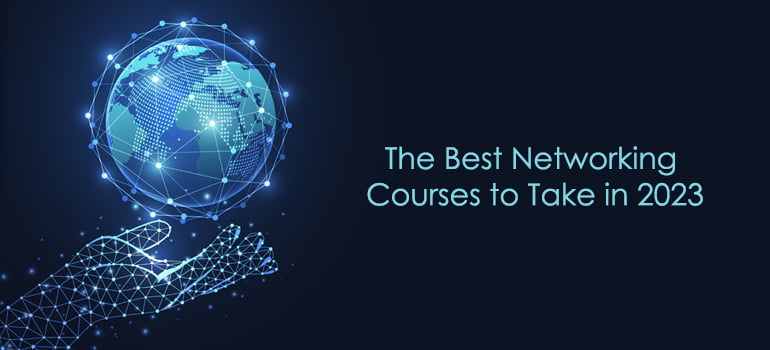 29 January 2023
Regarding information technology, the infrastructure field is consistently regarded as one of the most researched and developing. The newest trend, which is certain to continue in the long run, is online enrollment in networking courses. If you are just starting in the IT industry and want to get your career there, the following trending and in-demand tech career options will help you land high-paying jobs. The following list of networking courses focused primarily on the most reputable and well-liked networking courses. It was compiled with job-seeking trends in the IT technology industry in mind.
Kubernetes is an open-source platform for automating application container deployment, scaling, and operation. It has proven extremely beneficial to businesses and organizations because it automates various aspects of application development. Features like pod networks, service networks, cluster IPs, container ports, host ports, and node ports are all part of Kubernetes networking. This practical Kubernetes Course in Ahmedabad will teach you how to effectively use Kubernetes networking. You will be taught how to manage the complexities of networking through examples that are easy to understand, practical, and hands-on. You will begin by quickly going over the most important aspects of Kubernetes before moving on to the fundamentals of Kubernetes networking.
In this Docker course Ahmedabad, you will learn how to configure and manage service discovery and how to build and manage container networks. Modern cloud-native applications are based on containers and micro services, and network connectivity is essential for success. In this course, Managing Docker Networking, you will learn how to set up scalable service discovery, connect containers to existing corporate networks, and create new container networks.
AWS Security Certification
Amazon Web Services, Also known as AWS, is now one of the biggest cloud service and solution providers for businesses in all industries. For professionals and businesses to improve their security posture when business-critical services are hosted on the cloud, and hybrid cloud ecosystems, AWS Security Certification Ahmadabad training is essential.
Microsoft Azure Cloud Certification
The Microsoft Azure course—also known as the Cloud platform—offers a variety of Cloud Services, such as computing, analytics, storage, and networking, and is intended to bring new solutions to life. Additionally, Azure training is frequently utilized as a teaching platform for cloud database hosting. One of the many significant global public cloud service providers is Microsoft Azure Cloud Certification in Ahmedabad. IBM, Amazon Web Services (AWS), and Google Cloud Platform (GCP) are a few of the major providers.
Conclusion
The Network-as-a-Service (NaaS) market has grown thanks to the rise of big data analytics and the use of the cloud for data storage. In addition, NaaS is based on the rapid development and evolution of IoT technologies, which have increased the demand for networking professionals and provided a secure work-life balance during the pandemic. To begin your career in networking, Highsky it Solutions offers any of the courses mentioned above.